RADIOLOGY CASE OF THE WEEK presented by Dr. Rade E. Ology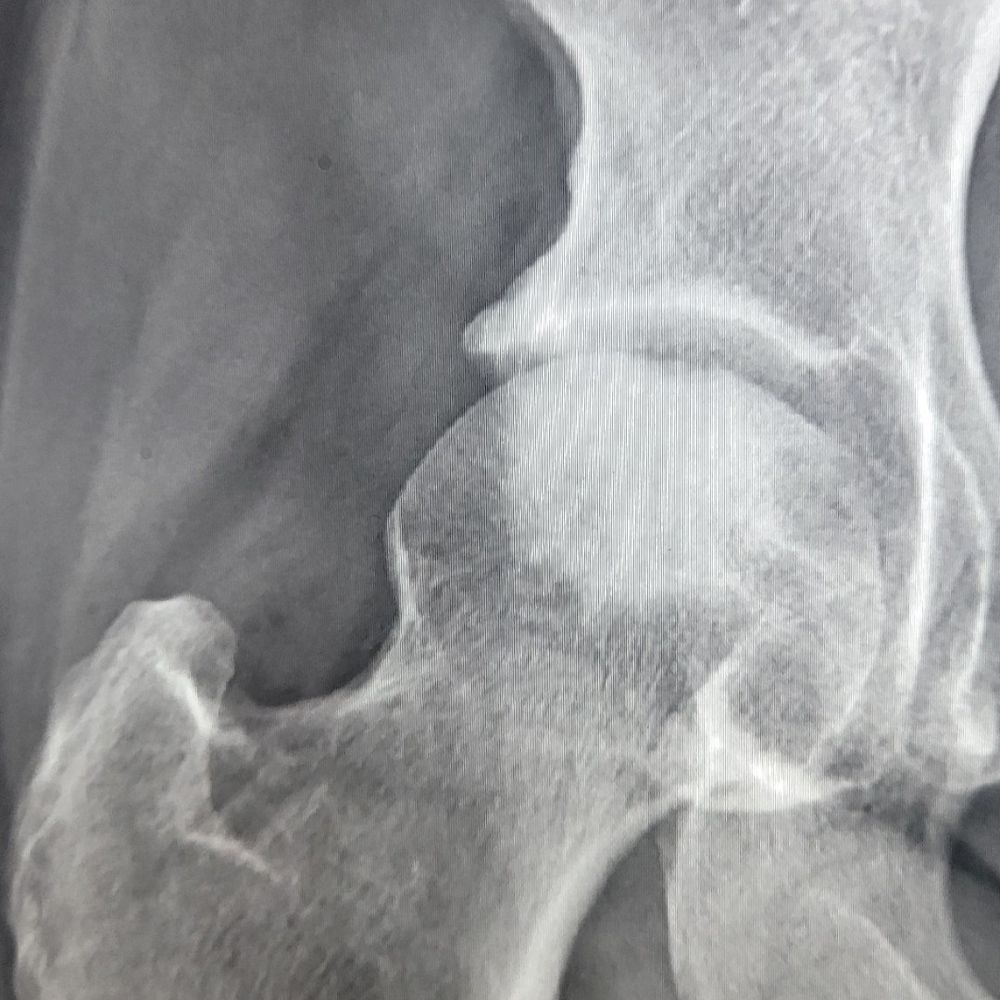 AVASCULAR NECROSIS OF THE FEMORAL HEAD
This middle aged man complained of increasing right hip pain. There is evidence of mild DEGENERATIVE CHANGE (arthritis) with osteophyte formation and narrowing of the hip joint space laterally. This is not the main reason for this patient's pain. The large round area in the femoral head represents AVASCULAR NECROSIS. In other words, the bone in this region is DEAD. There has been a disease process which has, somehow cut off the blood supply to this part of the bone. When this occurs, the bone turns SCLEROTIC (white). If you look closely, there is an area of CONCAVITY (a dent) in the upper part of the femoral head. This uneven surface will eventually erode the cartilage that makes hip movement smooth. This is a setup for more DEGENERATIVE CHANGE. There are many causes. Hip replacement is a common treatment. 
Note: Those vertically oriented linear densities (lines) which appear to be part of the bones of the hip represent ARTIFACT and are not real.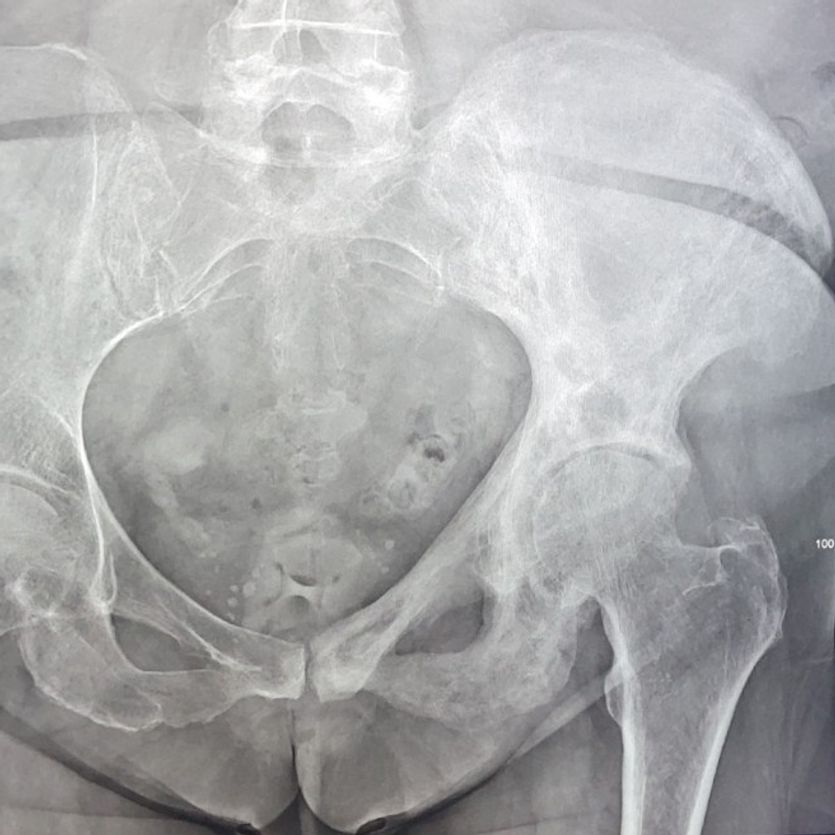 65 YEAR OLD MAN WITH LEFT HIP PAIN
PAGET'S DISEASE OF BONE
PAGET;S disease is a chronic bone disease involving abnormal bone remodeling processes. While healthy bones constantly "remodel" themselves by creating new bone to replace old bone, bones affected by Paget's disease produce new bone too rapidly, causing fragile, misshapen bones prone to fractures. In advanced stages of Paget's disease, bone composition resembles connective, fibrous tissue containing blood vessels. Paget's disease commonly affects the legs, spine, skull, and pelvis, although it can impact any bone in the body. Paget's disease has a tendency to affect a single bone without affecting others. This is referred to as MONOSTOTIC. Other diseases which affect multiple bones are referred to as POLYOSTOTIC. A laboratory test that can help confirm the diagnosis of Paget's Disease is an elevated  ALKALINE PHOSPHATASE level. In this radiograph, notice how different the left side of the pelvis as compared to the right side. there is SCLEROSIS  (whiteness) and there is BONE EXPANSION.
PAGET'S DISEASE OF THE BREAST is a totally different disease and is a rare form of BREAST cancer which involves the nipple. PAGET  is one of the few eponyms that is assigned to two different diseases.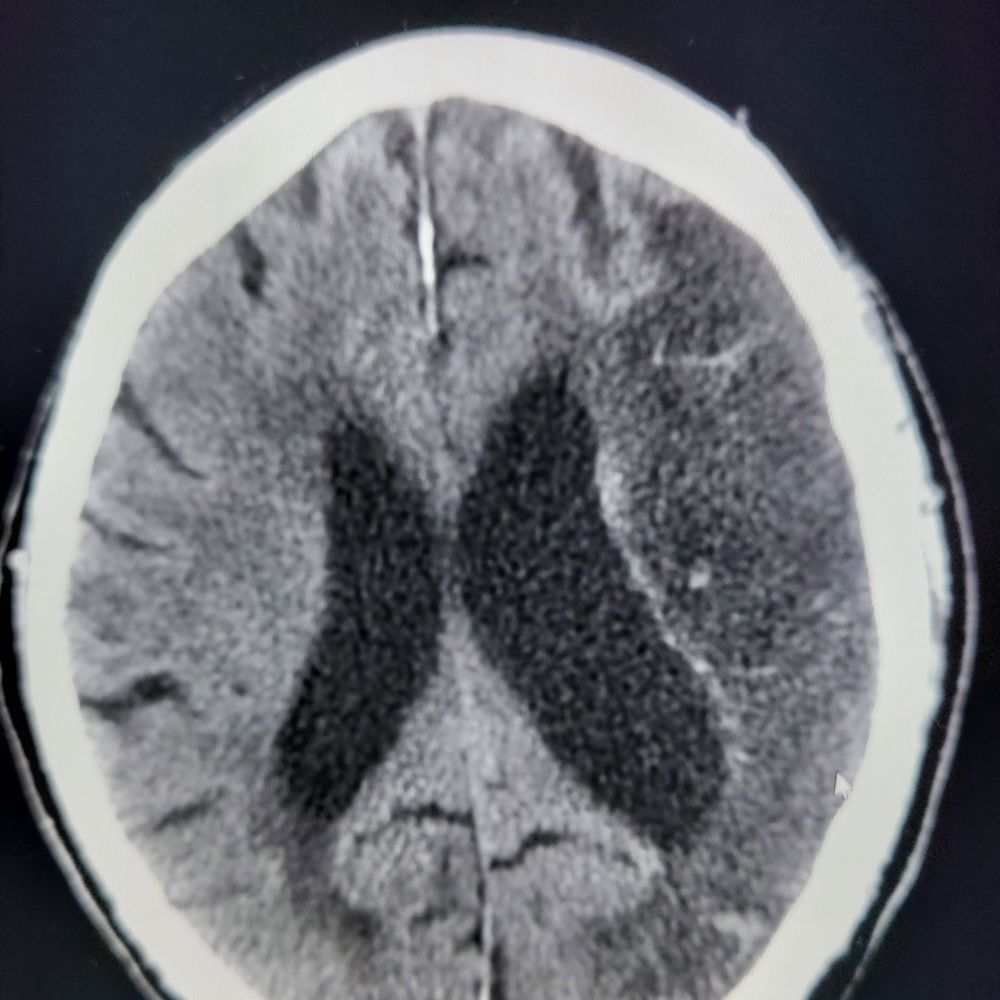 56 YEAR OLD WITH RIGHT LEG AND ARM WEAKNESS
This 56 year old lady had a history of a "stroke" that caused weakness of her right arm and leg. As opposed to a HEMORRHAGIC (or wet) stroke, this case shows  the presence of an ISCHEMIC (or dry) stroke involving the LEFT side of the brain. The symptoms associated with a stroke affect the OTHER side of the body because the nerves cross to the other side at the base of the brain. From the LOCATION of the dark area of destroyed brain, the radiogist can determine the location of the stroke. A dry stroke occurs when a THROMBUS (clot) blocks blood flow to a certain part of the brain. In this case, there is a blockage of the LEFT MIDDLE CEREBRAL ARTERY. If you look closely, you will notice that the LATERAL VENTRICLES are of different sizes. When the brain tissue dies, it loses volume. The left lateral VENTRICLE is larger because of the decrease in pressure  because there is less viable brain on the left. This is referred to as an EX VACUO phenomenon. In the case of an ACUTE or  SUBACUTE stroke, there will be swelling (CEREBRAL EDEMA) which will press on the lateral ventricle and make it appear to be smaller.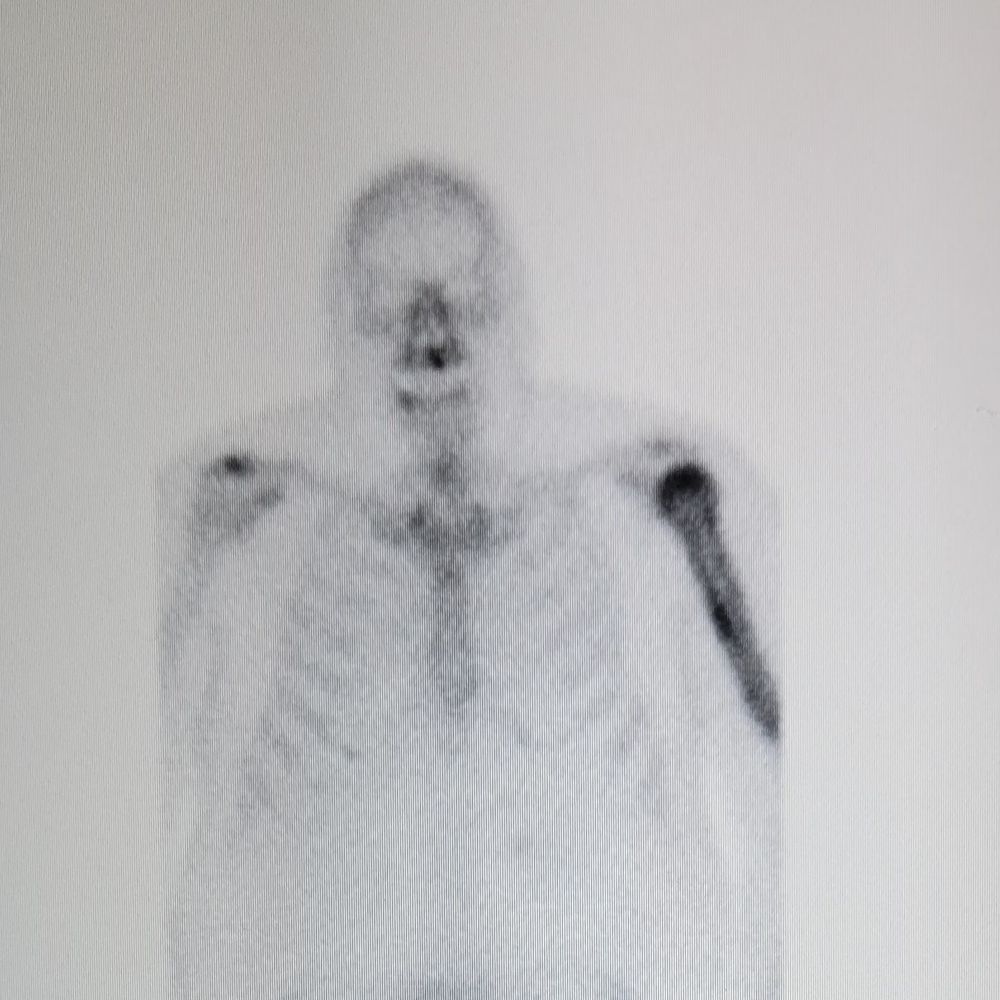 75 YEAR OLD MAN WITH PROSTATE CANCER AND ARM PAIN
This 75 year old man has been diagnosed with Prostate Cancer. His Prostate Specific Antigen  (PSA) level is elevated. This laboratory value is used to screen men for PROSTATE CANCER. This is a BONE SCAN. Radioactive material that is coupled with an agent that is attracted to areas of BONY TURNOVER is injected into the bloodstream and concentrates in areas of bone repair, destruction and healing. It is NON-SPECIFIC and must be correlated with the patient's clinical findings.. EVERYONE can see the OBVIOUS increased tracer uptake in this patient's upper arm.. With this history, one would initially attribute this appearance  to METASTATIC DISEASE. This is when the cancer spreads to a different part of the body (usually through the bloodstream). This patient also has a condition called PAGET'S  DISEASE. This is a non-cancerous condition which causes an irregular trabecular pattern of the bone and, sometimes, EXPANSION  of the bone.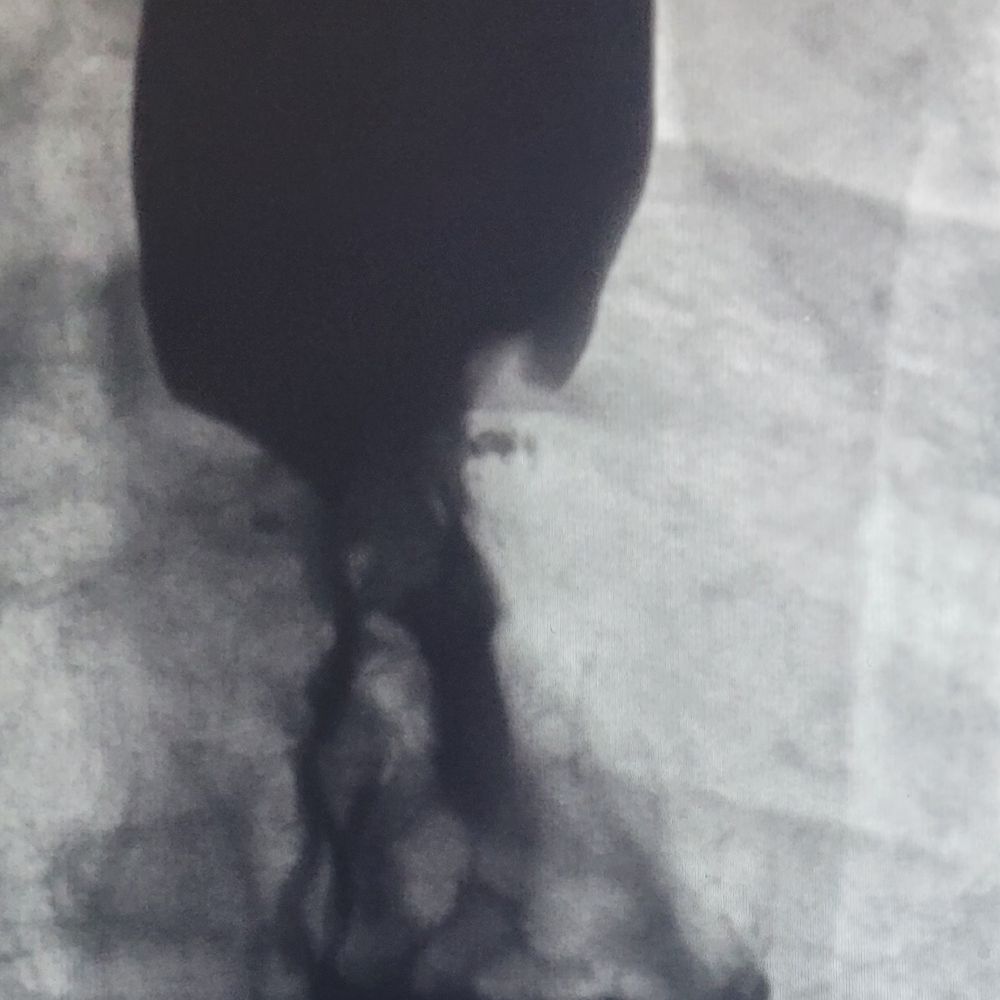 58 YEAR OLD MAN WITH DIFFICULTY SWALLOWING AND RAPID 50 P0UND WEIGHT LOSS
ESOPHAGEAL CANCER
This is an image from the BARIUM ESOPHAGRAM that was performed to evaluate  his "swallowing tube" (ESOPHAGUS). At the top, note how smooth and wide the upper esophagus is. Below, note how  NARROW and IRREGULAR the esophagus is. This irregularity is due to the mass pushing into the lumen. You can see that the narrow section will not let FOOD pass through as easily. Because of this, the patient  becomes MALNOURISHED and loses weight. Unlike the previous case (2 cases ago) this irregularity is  quite suggestive of ESOPHAGEAL CANCER. The other case showed a gradual narrowing with more or less smooth margins.
65 YEAR OLD LADY WITH BLOOD IN STOOL
This lady had a COLONOSCOPY for evaluation  of blood in her stool. Because her colon had many redundant loops, the colonoscopy was incomplete. A BARIUM ENEMA was then performed. A dense liquid named barium is instilled into the colon from below. Barium is white in color. This is an inverted image so it appears as a gray color. This type of exam is designed to detect abnormalities in the colon that can cause bleeding. This includes, polyps, masses or constricting lesions. Polyps and masses grow into the lumen of the colon. DIVERTICULA are outpouchings that stick out from the outer surface of the colon. Diverticula may be a cause of bleeding. Inflammation and infection due to DIVERTICULOSIS is referred to as DIVERTICULITIS.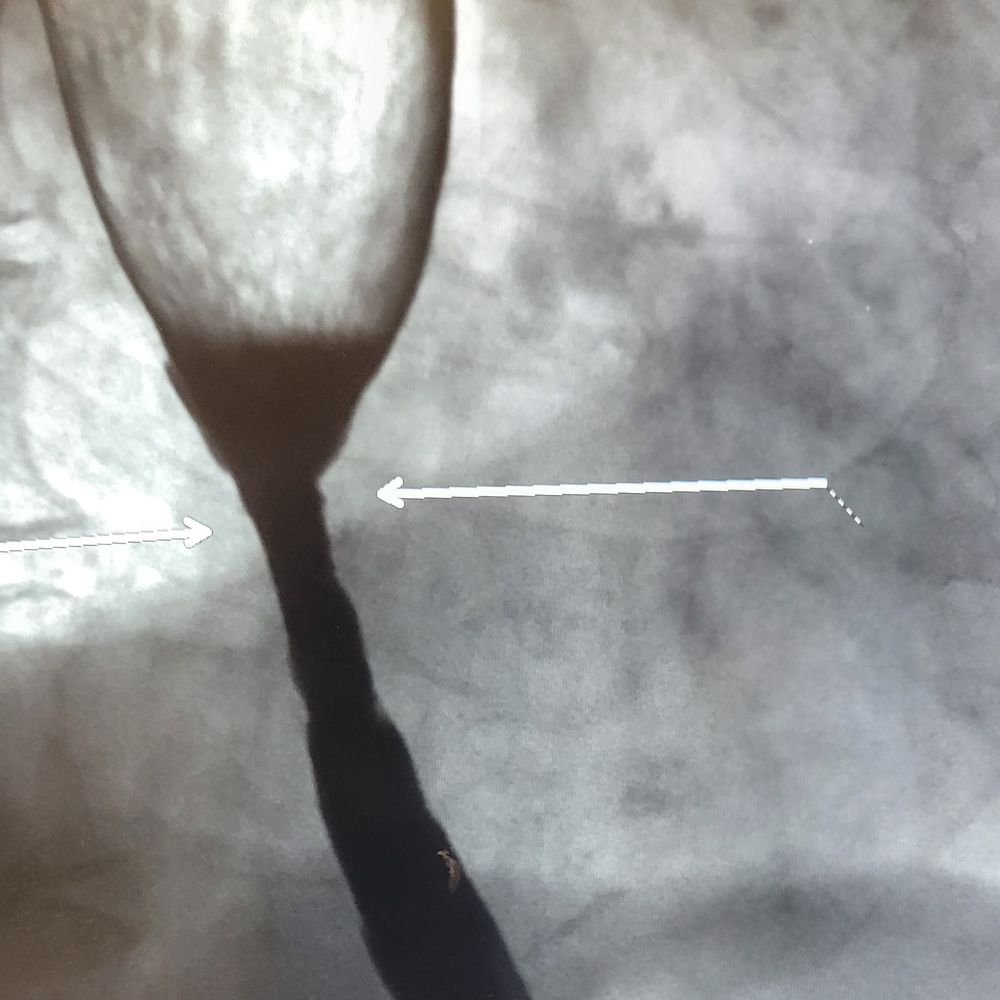 70 year old man who has had difficulty in swallowing solid foods
DYSPHAGIA
This gentleman has described the sensation of DYSPHAGIA. Normally, when food is chewed, it is broken down so that it can travel through the esophagus (swallowing tube) into the stomach. This man has lost many teeth so he has not been able to properly masticate (chew) his food. The arrows point to the narrowed portion of the distal (near the stomach) esophagus. Not only is this part narrow, the part above the narrowing is DILATED. The narrowed segment is referred to as a STRICTURE. This narrowing could be related to inflammation due to REFLUX of stomach acid. Also, motility problems that affect PERISTALSIS can cause narrowing. TERTIARY ESOPHAGEAL CONTRACTIONS disrupt the normal movement of food through the esophagus. Lastly, tumors may block off the esophagus so that food will not pass through easily.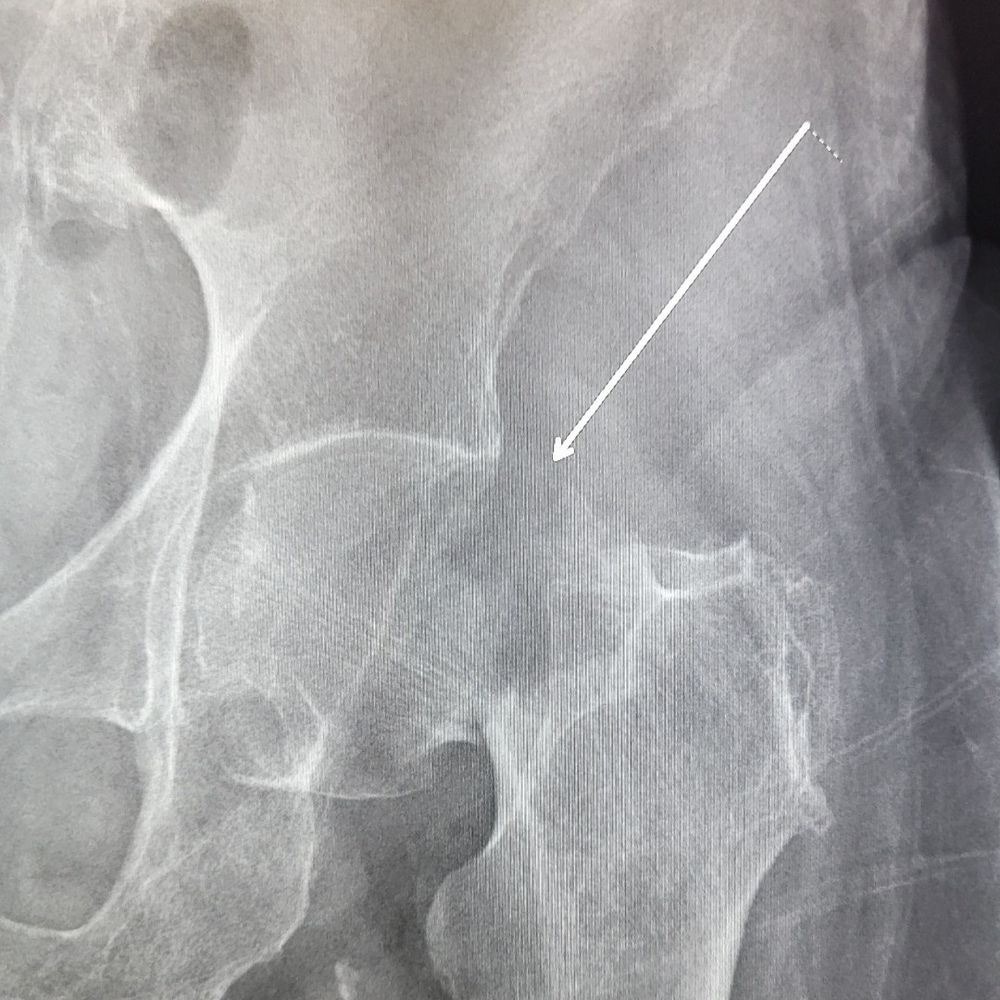 75 year old lady who fell 7/1/2021
Which came first? The chicken or the egg?
This is a radiograph (X-ray) of the left hip. EVERYONE can see the abnormality. This is a fracture of the FEMORAL NECK. Most people think that patients fall and the trauma breaks the hip. Many times, that is true, however, if the bone is weak (ie., osteoporosis or a metastatic tumor that eats up the bone) a patient may sustain what is called a PATHOLOGICAL fracture. A "regular" fracture is due to abnormal stress on normal bone. A "pathological" fracture is due to normal stress on abnormal bone. The arrow points to an apparent FOCAL area of radiolucency (darkness) which could possibly represent a bone metastasis due to CANCER. A CT scan was performed and no destructive lesions were detected.